Products
>
4wd Canvas Canopy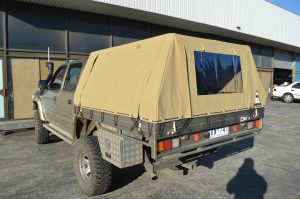 The kind of gear you have can make or break a trip. If you're an outdoor enthusiast with a 4WD, a canopy is an indispensable item that will revolutionise your trips and travels.
Southern Cross Canvas has you covered with a wide variety of canopies for you to check out. They're masterly designed and made with 100% Australian canvas. Not only tough, strong and secure but also appropriate for all year-round endeavours.
Canvas Canopy 4×4 Style That's Built to Last
We know the frustration that comes with having to replace certain objects. Investing your money in pieces that should be solid only to have them break within a matter of months. Fortunately, you're here looking at Southern Cross Canvas. We're experts when it comes to all things camping, the outdoors and 4WDs. Not only is it the basis of our lifestyle, embedded in our culture and the foundation of our career and business, but it's also a real passion of ours. That's why we have excelled in this industry for nearly four decades.
When it comes to a 4×4 canvas canopy, you want a sturdy structure, extraordinary material quality and for it to last. We've compounded these elements to ensure that you get the very best out of our products. When you come to our shop or order online, you can then expect a stellar customer service to top it all off. Our team members are understanding, helpful, patient with your needs and always ready to assist you.
You deserve accessories that will allow you to make the most out of your journeys, holidays, work travels and breaks. You need kit that you can rely on in all weathers, in different seasons and through all kinds of landscapes. We're proud to say that we provide products that are always up to what you demand of them.
4WD Canvas Canopies from Bayswater and Beyond!
We're based in the Bayswater area in Victoria and will, of course, welcome you in our store. You can also order online with us.
We believe that we are so fortunate to be in a line of work in which our products get to travel far and wide with you. They'll get to see the span of the country and accompany you wherever you go. This sense of thrill, fun and adventure is entrenched into each and every one of our items. That's what we think makes us stand out. The fact that we've chosen to manufacture these products because we truly care about this industry. The greatest pleasure is always seeing off happy customers and awaiting news of their amazing adventures.
Interested? Why not call us today for a quote and to see what we can do for you and your 4WD needs. You can also leave an enquiry on our website or send a message via social media if you prefer. Be sure to sign up our newsletter for all our latest information and to stay in the loop with us.