Products
>
Touring Canvas Canopy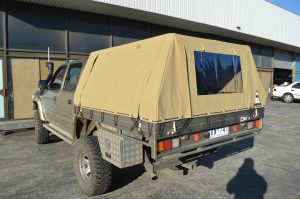 When hitting the road, you want to feel at ease and relax into your journey. You want to know that everything you've brought with you is intact and safe. You don't want to panic about what the weather could do to your precious cargo or to have to stop off in the middle of nowhere to muddle with repairs. Most importantly, you want to arrive ready to unload, unwind and chill out without any worries, doubts or concerns.
That's why a Southern Cross Canvas canopy is designed and made with the utmost functionality and practicality in mind, with market-leading material and dependable durability.
Touring Canvas Canopies Made by Adventurers for Adventurers
We love travelling, exploring and seeing all the delights this beautiful country has to offer. That's why we entered into this industry; to pass on all we know and because we just simply love it. When coming to us, you'll receive an impeccable service and a great collection of canopies to choose from. You'll be amazed by what we can do with our canvas!
We have an array of add-ons and options available for you. Pieces such as:
PVC clear windows
Extra zips
Flywire windows
Awning zips
Awnings
Vents
Frameworks
Shooting provisions
A touring canvas canopy for sale from us can therefore be everything you need, and we're also always open to your own personal ideas and suggestions. We do it all without compromising on quality and using our decades of experience to deliver the very best results. We're a reputable company that won't let you down and have the interests of the camping community at heart.
Touring Canopy for Sale from Industry Leaders
The market is expanding all the time and it can be difficult to know what exactly to go for. We feel that we're different and special in several ways. Firstly, we manufacture everything here at home and only use Australian canvas. This beneficial economically, environmentally and socially for everyone!
Secondly, we're family run and to us, passing on a business from one generation to the next keeps the passion and love sealed in.
Lastly, we have worked hard to garner the absolute finest quality we can for our products over the years. We know what it takes and strive each and every day for the best. Our team are friendly, kind, welcoming and clued up! Our customers are looked after and valued, we are always there to answer questions, do what we can to fulfil requests and even just to share stories and have chats.
If a touring canvas canopy is something that you're considering, do not hesitate to get in touch with us! We're always delighted to hear from you and love talking about anything and everything outdoorsy. Check out our social media pages, drop us an enquiry or come down to Bayswater for more details. You can also call us during opening hours and don't forget to subscribe for all the newest deals, products and information.
No products were found matching your selection.