Products
>
Camper Trailers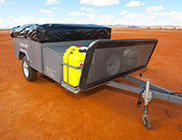 Southern Cross Campers are highly regarded by travelers across Australia for their practical and tough design attributes born out of the personal experiences of our people and feedback from our customers.
We are currently working on our new range, which we are hopeful will be finalised within the last third of 2016.
For further details please do not hesitate to contact Southern Cross Canvas.
With Southern Cross Campers all manufactured using only the highest quality Australian made canvas, fittings and mechanical components by expert trades people we continue to develop products to reliably withstand all weather and terrain conditions encountered across the Australian landscape.
We have 100% confidence in the quality of the products we make and support that belief with leading warranty policies.
5 YEAR WARRANTY on all TENT SECTION workmanship
2 YEAR WARRANTY on TRAILER workmanship
No products were found matching your selection.