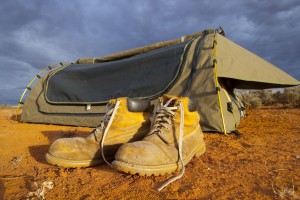 Get outside with a ute swag from Southern Cross Canvas and the only drama you will see is the scenery.
Southern Cross Canvas make the ultimate swags for utes that are designed for the outdoors lifestyle. For more than 35 years we have been turning our passion for camping into experience in creating the ultimate canvas tents and accessories so that our customers can genuinely enjoy being outside. We use high-quality, Australian-made canvas in our stringent manufacturing process, and as an Australian family owned and operated business, we understand what is needed for successful camping in the outback.
If you are looking to buy a ute swag, then Southern Cross Canvas have some amazing original designs that we know you will love.
Which Ute Swag is Best for You?
The ute swag is designed to be a simple way to protect yourself from the elements while you sleep, but that does not mean it isn't technologically innovative. Whichever style of swags for utes suit you, they are all constructed using the highest quality canvas, waterproof and tear resistant. Offering UV protection rated at 50+, you can be comfortable and safe in a swag. But which one should you choose?
All our ute swags in Australia come in single and double size. Travelling with a spouse and a double ute swag is a romantic getaway – or you can revel in the extra space with a double just for yourself!
This is one of the most iconic designs and is crafted to be large enough for comfort, but small enough to be carried easily. With a rolled diameter of just 250mm, you can take this ute swag just about anywhere. Featuring a heavy-duty vinyl floor and a 50mm high-density mattress, laying under the stars has never been more comfortable.
A bow at the bottom leaves lots of room for storage while remaining comfortable for sleeping. It can be used as a flat swag too. Supplied with all poles and pegs, this has a rolled diameter of 250-300mm, so it is still small enough to be easily transported.
First developed 15 years ago, the Dome Swag uses high-quality aerospace alloy for the bows – and still rolls to a diameter of just 250-300mm. It can be pegged to the ground or used freestanding,
One of the best features of our swags (other than the innovative design and high-quality materials) is that if the weather is kind, you can sleep directly under the stars thanks to the removable cover. Get close to nature or enjoy a romantic encounter under the Southern Cross with one of our awesome ute swags in Australia.
Canvas UTE Swag That Will Last a Lifetime
Canvas ute swags are an investment that will last a lifetime if they are cared for properly – we have customers that have tents from us that are still going strong more than 30 years after they were purchased!
Caring for canvas is simple – keep it clean, do not store it wet, and avoid any chemicals or soaps that could damage the material. This means using a brush to clean with water from a hose (not high-pressure), avoiding tree sap and bird droppings, and make sure it is fully dry before storing on a shelf in the garage. Our products are designed to be easy to put up and dismantle, so taking extra time to make sure it is clean and dry is worth the effort – for a lifetime of ute and swag holidays.
No products were found matching your selection.