Products
>
Canvas UTE Canopies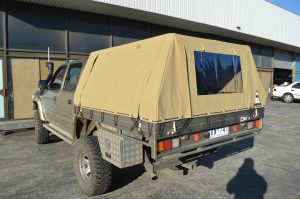 Southern Cross Canvas manufacture a huge range of canvas canopies to suit a vast array of vehicle and designs. The features and possibilities are endless when it comes manufacturing canopies to suit vehicles, trailers and hunting cages/boxes. Utilising years of experience and the best quality materials available you can be sure that Southern Cross Canvas will be able to design and manufacture a canopy to suit your requirements, but also achieve a long service life. There are countless options available depending on what your requirements are. Here a just some of the options available: – PVC Clear windows – Extra zips – Flywire windows – Awning Zips – Awnings – Vents – Framework – Shooting Provision Do not hesitate to contact the team at Southern Cross Canvas to discuss your requirements and to obtain a preliminary quote. Contact Us
Read More
The Best Canvas UTE Canopy on the Market
If you take your vehicle out on trips through big and beautiful Australia, you'll want to maximise the storage options available to you. Whether you're camping, fishing, or hunting you'll need the extra space. But you'll also need to make sure this storage is safe and fits your vehicle. You need a utility canopy.
When it comes to a canvas UTE canopy Australia has a lot of options. But you should really go with the best by working with Southern Cross Canvas Products.
The Best Quality Canvas
We only work with the highest-quality Australian canvas. This is because we take great pride in where we come from and we want to give Australia's citizens the best possible experience. Because this is the case, we focus on quality and never make any sacrifices that could jeopardize the results we achieve.
Our materials are also customized to be perfect for use in Australia's unique and challenging terrain. In fact, our happy customers regularly tell us that our products are the final piece left standing after all of their other equipment fails them!
Built to Fit
We offer a huge range of canopies that are designed to suit a range of vehicles and designs. This means that whatever your chosen vehicle there will be something for you. In fact, if you can't find the right canvas UTE canopy for sale, we can design and manufacture a canopy to your exact needs.
Our team has a lot of experience in designing and manufacturing – over 35 years in fact! We are a dedicated family business that exists to serve customers and get the best results possible for them.
A Range of Options
We understand that professionals and hobbyists who use their vehicle regularly need to have a UTE canopy that fits their exact needs. It may be used to store tools or other valuable specialist equipment. This is why we offer a huge range of options, just a few being:
PVC Clear windows
Extra zips
Flywire windows
Awning Zips
Awnings
Vents
Framework
Shooting Provision
Uncontested Durability
Your vehicle could be taken to all manner of places and endure a range of tough conditions. This is why you need to be confident that you have the best canopy that will stand the test of time. Because we use the finest materials and manufacturing techniques all of our customers find that this is the case.
In fact, many of the items that we sold decades ago are still reliable and in use!
Speak With Us Today
We are an approachable and professional family business that has spanned two generations. We always strive to perfectly understand the exact needs of our customers so that we can deliver the very best. If you have a project in mind feel free to reach out to us today by either calling or filling out our contact form on our website.
Southern Cross Canvas offers high quality Swags, Canvas Tents, UTE Camping Canopies, Cabin Tents, Camper Trailer Tents, Canvas Annex, Caravan Annex & many more Australian made canvas products at best prices. You can get in touch with us by giving us a call or via online form.
Read Less