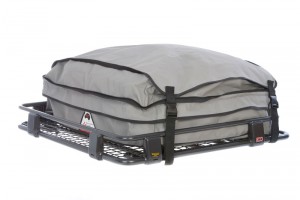 One of the biggest challenges when it comes to a vacation in the wild is not the camping itself, but the journey. You'll want to get all your kit there in one piece and, as with your clothes and perishables, you can only rely on good quality storage and moving equipment in this respect. For your tents, awnings or other shelters, you need a roof rack bag that is tough and weather resistant.
Fortunately, we stock some of the best roof rack bags in Australia. Like our tents and awnings, as well as all our other products, we've drawn on over thirty years' experience as the premier manufacturer of canvas goods. Our dedicated, Australian run family business has built and designed a sturdy, dependable range of bags built with only the best materials and designs.
Our Line of Southern Cross Roof Rack Bags
We've designed our bags based on a thorough understanding of the requirements of the road and the campsite. We insist on only the highest craftsmanship and toughest fixtures so that the bag remains useful and dependable year on year. Like our other products, these bags are created with canvas manufactured by Wax Converters, an Australian based company known for high-quality materials.
Our roof rack bags are made to accommodate tough climate, adverse weather not to mention the difficulties of highways, roads and dirt tracks. Made with 12oz Wax Converters Canvas and heavy-duty No. 10 Lockable zips and runners they will protect your tents from spray, dirt and dust and sun. They're also well bound together with double stitched and bound seams but can be easily accessed with 50mm Poly Propylene straps and quick-release buckles. They're compact, too, with a closed height of 250mm and opened up at 450mm. Read More
We have four standard sizes available:
Size – 900 (Length) x 1200 (Width) (3×4)
Size – 1200 (Length) x 1200 (Width) (4×4)
Size – 1500 (Length) x 1200 (Width) (5×4)
Size – 1800 (Length) x 1200 (Width) (6×4)
Size – 2100 (Length) x 1200 (Width) (7×4)
Size – 2400 (Length) x 1200 (Width) (8×4)
Of course, we are aware that for every different type of tent there is a different size. That is where our excellent customisation service comes in. We're at our best when we can deliver to your exact requirements so whatever you need give us a call and we'll manufacture the right size roof rack bag for you.
You might also want to check out some of our canvas carry bags for each tent size to complement your purchase. Every tent we offer has a corresponding bag, and like all our other products it is made to be versatile and durable under stress.
Order the Best Roof Rack Bag Available Today!
These bags are designed to have plenty of room in them, but if you need something larger, or specific to your particular roof rack or vehicle, let us know. Call us today or order online and we'll have your roof rack bag on its way to you in no time!