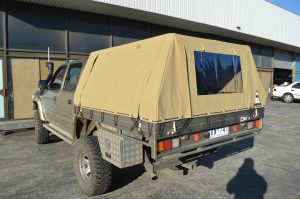 Southern Cross Canvas manufacture a huge range of canvas canopies to suit a vast array of vehicle and designs. The features and possibilities are endless when it comes manufacturing canopies to suit vehicles, trailers and hunting cages/boxes. Utilising years of experience and the best quality materials available you can be sure that Southern Cross Canvas will be able to design and manufacture a canopy to suit your requirements, but also achieve a long service life. There are countless options available depending on what your requirements are. Here a just some of the options available: – PVC Clear windows – Extra zips – Flywire windows – Awning Zips – Awnings – Vents – Framework – Shooting Provision Do not hesitate to contact the team at Southern Cross Canvas to discuss your requirements and to obtain a preliminary quote. Contact Us
Read More
Customise your UTE with a Canopy
If you own a UTE, you may be searching for ways you can make your vehicle more functional, allowing you to take it away on camping trips and make the everyday tasks more convenient.
At Southern Cross Canvas, we can design a custom UTE canopy for your vehicle, offering you many benefits.
Why choose to add a canopy to your UTE?
Adding a canopy to your UTE means that it becomes multi-functional. If you have ever looked in the back of your UTE and thought that it would make a great space to sleep when you are out discovering the Australian bush, you could be right.
Practically, however, without a UTE canopy, you are exposing yourself and your belongings to unpredictable weather conditions. During the night, you could face a sudden downpour and be forced to go into the front of your vehicle where you would be cramped and uncomfortable. Installing a canopy can avoid this from happening and ensure you stay dry, whatever the weather.
Transforming your UTE with a canopy means that it can become the ultimate travel vehicle. When you are on the road, further benefits include keeping all your luggage safe and secure, along with being waterproof. Let's face it, no one like to sleep in a wet sleeping bag.
What's more, a canopy can also give you a lot more space than you would have had previously, and this is always useful when you are going away for a few days as there always seems to be so much to pack.
Choosing to purchase a canopy from Southern Cross Canvas can also increase the value of your vehicle. There are many advantages from having a canopy and this means that a new owner will be able to enjoy them too. Furthermore, when you choose Southern Cross Canvas, you know that your canopy will be made to the highest standards and fit your vehicle like a glove rather than a one size fits all, and this bespoke fitting further increases your vehicle's value.
High-quality UTE Canopy from Southern Cross Canvas
At Southern Cross Canvas, we only provide canopies that have been made from the finest materials. We know that it is important to invest in quality and our products are built to last.
All our canvases are Australian made, and because of this, they are designed to withstand even the harshest weather conditions that can be encountered in this country. They are fully waterproof and will remain this way if they are properly maintained.
We a proud to offer a tailor-made product for your UTE, meaning that you get exactly what you need. Also, as we are a family-run business, all our staff are passionate and knowledgeable about our products, giving you peace of mind that you will be getting the best no matter which product you want to buy.
Contact us today to see how we can create a custom-made canopy for your UTE so that you can conveniently experience all that Australia has to offer.
Southern Cross Canvas also offers high quality Canvas Tents, UTE Awnings, Cabin Tents, Camper Trailer Tents, Canvas Annex, Caravan Annex & many more Australian made canvas products at best prices. You can get in touch with us today by giving us a call or sending a message through our website. We'll get straight back to you.
Read Less