Products
>
Ford Ranger Canvas Canopy
Ford Ranger Canvas Canopy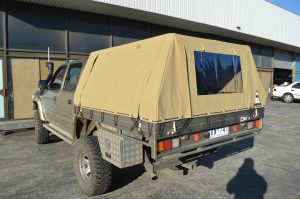 Are you a Ford fan looking for a stellar canvas for your ute? Do you live for thrill and adventure? Go on multiple camping escapes all through the year? Regularly transport your gear around? Then you need to let us here at Southern Cross Canvas sort you out a fine quality covering. You'll have peace of mind for all your ventures and a real Australian product to see you through. We're a company based in Bayswater and have been in this line of business for over thirty-five years, so not only do we know our stuff, but we're also a dependable bunch!
Cool and Collected with Our Ford Ranger Canvas Canopy
If the outdoors is one of your real passions, you'll need to make sure you're kitted out with all the appropriate gear that will provide some superb protection and look awesome all at the same time. We know that trying to pack in all your things, your partner's, your friend's, your family's, dog's (the list goes on) is no simple task! Fortunately, having such a spacious ute as the Ford Ranger makes life a little easier. Then, just think, on top, a robust canvas canopy – a really secure, finishing touch for sure.
Our canvas canopy for the Ford Ranger is exceptionally well made and won't let you down. We have worked hard to stock out our ute collections and ensure that they are all fitted with security, class, stability and durability. Our four decades in this industry has allowed us to hone our craft and work the canvas in the best possible ways. We're outdoor specialists that thrive on helping out fellow adventure lovers, so we'll always do everything we can to meet your requirements. We have a vast assortment but also do custom work and will always take your unique requests into consideration as well.
Why Come to Southern Cross Canvas For Ford Ranger Canvas Canopy?
We started our company with a mission to provide products that we needed but couldn't find! We then threw ourselves into the industry and designed gear that is not only useful and practical but also dependable and really just the ultimate staples of any camping getaway. We made a point of manufacturing here in Australia and using only Australian made canvas because we simply love our home and want to give back to our economy.
Moreover, our principal objective is your satisfaction which is why we take customer service very seriously. Our team is in the know, driven and approachable, they are ready and available to do all they can to fulfil your requests.
We recommend that you take a look at our gallery and social media pages to see a Ford Ranger canvas canopy for sale in action and to get some further information. If you have any specific questions or would like a free quote, of course, don't hesitate to contact us. You can drop by the store in Bayswater North, give us a call or send in an enquiry.