Products
>
Custom Caravan Awnings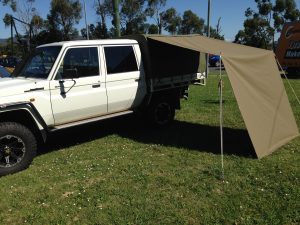 When you have a caravan and you're out on a long road trip, it is important to be able to get out and stretch your legs once in a while and admire the view. But sometimes it can be difficult to do this when the weather is grim or overbearing. That's why it's always a good idea to include a caravan awning in your equipment list when you are out on the road.
Over our three decades in business, we've learned how to manufacture truly durable custom caravan awnings. We know what it takes for a structure to stand against poor weather and we know what it takes for it to bear up under the stress and strain of travel. With a passion for innovative design and premium quality, let Southern Cross build your awning and you'll be enjoying a comfortable shelter for years to come. Read More
What Are Your Requirements For Caravan Awnings?
We are specialists in custom jobs. We've worked on small, simple awnings and large annexes for four-wheel drives. We've worked on the simple jobs and the complex and have a fantastic team of experienced designers and manufacturers who know how to turn out a professional product.
We lead the way when it comes to accessibility. Our custom made caravan awnings are made to be easy to put up and take down in even the roughest of weathers, so when you're keen to get out of the rain or get in the shade you won't have to fiddle about with instructions. And once it's up, your custom caravan awning will stay up. They are designed to stand up against the worst conditions, keeping you dry when it rains and cool when it's sunny.
Like many of our products, our Australian made caravan awnings are produced with high-quality Wax Converters canvas. It'll stand up against rot and mildew and intense heat and has a UV rating of 50+, and it's for this reason we're pleased to offer a five-year warranty on the canvas. Other features that can be included in our customisable features are:
Windows and UV stabilised fly screens, and their locations and sizes
Robust No.1 Spiral zips, including lengths and positioning
Double-stitched and bound seams
Stainless steel metalwork
Poles and pegs, all included in the kit.
Reinforcing high-stress areas.
As experienced manufacturers, we're also keen to offer you our expert advice on how best to meet your requirements. When we put together your caravan awning, we'll ask you about:
The caravan itself, the model.
Fixtures and fittings that may already be in place
The size of awning you are looking for (we can offer you some advice on this based on your caravan)
Any extras you might like, such as wind walls or windows.
Get Your Custom Caravan Awning Today!
You've only seen a snippet of our service here, and we're always up for new challenges! Give us a call or use our dedicated online enquiry system and we'll be in touch. Whatever you need, give us a call now and we'll start working right away on a durable, high-quality awning that you are going to love.