Products
>
Canvas Awnings Melbourne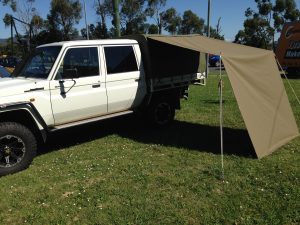 If you are planning a night out under the stars or an extended trip across the beautiful natural landscape it's great if you can customise your campsite. You might want to add extra sheltered space to your tents as you go, have a place to read without sun glare or add extra space to your caravan or camper. No matter how you choose to use them, buying canvas awnings in Melbourne is a worthwhile investment for any lovers of the great outdoors.
As the leading manufacturer of premium canvas awnings in Australia for over 40 years, we're pleased to offer an excellent range of awnings to suit every need. We take pride in the quality of our product and are very proud of the fact that we only use Australian-made canvas in our production methods. Not only that but we're also very proud to offer a passionate, family-run service, dedicated to providing innovative designs at an affordable price. Read More
A Sample of the Canvas Awnings We Offer
Our canvas is produced by Australian company Wax Converters, who ensure it is both rot and mildew resistant and also offers great protection against the sun and high temperatures. Not only does the canvas have a UV rating of 50+, but we provide windows for ventilation and superfine UV stabilised flyscreens for protection against bugs.
All our awnings feature premium steel poles, stainless steel O-rings and a side pole kit for if you need a sheltered resting or clothes drying area. Dependent on which product you buy, you'll find fittings for PVC window flaps, power lead inlet flaps and a three-piece, double-locking centre pole to add extra structural support.
Some samples of canvas awnings for sale in Melbourne include:
Designed to work with our touring tent range and built with the same great quality canvas, it offers superb protection against weather without putting extra strain on the tent. It is a simple design which requires only the two included pole and guy ropes. It features 8oz Coolabah Wax Converters Canvas.
Sized 2240mm by 1800mm.
Versatile Canvas Windbreak Wall
Canvas Windbreak Wall is an excellent addition to the Small Awning. Using only three pegs and velcro strip it adds extra protection and shade, using exactly the same great quality canvas as the small awning detailed above.
For those who want to provide more substantial covering and shade, the Large Awning is a versatile addition to your camp. It is useful against the majority of weather issues when you're out in the wild. It is secured by two velcro tabs to your Ultimate tents and can be erected in three different ways:
One side down – useful when sheltering against the wind
Both sides down – if you need protection from either side
Both sides up – effectively becoming a gazebo style awning, requiring additional poles.
The Large Awning also uses 8oz Coolabah Canvas and measures 5500mm by 2700mm. It includes all the pegs, poles and guy ropes you might need for the first two configurations of the awning.
Order Your Canvas Awnings in Melbourne Vic Today!
These are just a few ideas of what we offer when it comes to awnings, so make sure to check out the catalogue to view the wider range. If you aren't sure that you see what you need, give us a call now and we'll be happy to take you through the range or see if we can help you out with our dedicated customisation service. We're ready to take your order now!