Products
>
Pop Top/Jayco Re-Canvas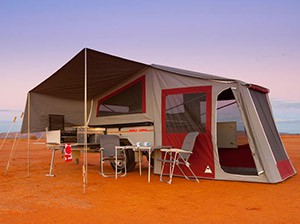 Southern Cross Canvas replace and repair on a regular basis pop-top surrounds and camper trailer's with bed ends (eg. Jayco).
They are renowned for their quality and professional finish.
They look after the process from removing existing canvas/vinyl through to cutting and manufacturing of the new product, and installation.
Utilising cutting and sewing methods obtained from years of experience and the best quality materials available, you can be rest assured that your new canvas will be a welcome addition to your van or trailer.
With competitive pricing and a high quality end product do not hesitate to contact the team at Southern Cross Canvas for a quote.