Products
>
Amarok Canvas Canopy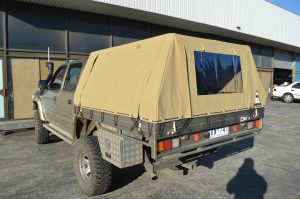 If you're a proud owner of the excellent Volkswagen Amarok and need a canvas canopy, then you've arrived at the perfect place. Southern Cross Canvas are experts in this area and can have you sorted out in no time. There's no messing around with us. We're a hearty, home rooted business that has thrived in this industry for over thirty-five years and counting. We manufacture everything on Australian turf and have seized every opportunity to broaden our ranges and styles without compromising on quality.
Buy A Canvas Canopy for an Amarok, It'll Rock Your World!
Whether you'll be facing buckets of rain or cruising down a burning, sunlit road, a canvas canopy can take it all. Windproof and waterproof it really is a solid sheltered offering as well as being ultra-lightweight and easy to arrange. There's just a plethora of reasons as to why a canvas canopy is worth your while.
A Southern Cross Canopy is:
100% made and manufactured in Australia with Australian Canvas
Long lasting
Built to sustain an array of conditions
Designed to fit your Amarok like a glove and will look amazing
Conceptualised by professionals
Made with the Australian climate in mind
For all outdoor aficionados, tradies, sports lovers, adventure seekers and family campers
All in all, we mix together good old fashioned hard work, love for this industry, gritty determination, incredible canvas and an eye for design to make products of the finest quality. Our canvas canopy, Amarok version is tailored for this vehicle and we can even add custom edges. So, do be sure to contact us for more information on what we could offer. Essentially, we manufacture canopies for all kinds of utes but are always open to take your special requirements into consideration.
Take Your Amarok Canvas Canopy Australia Wide
We're located in Bayswater North in Victoria, so if you're local, you're more than welcome to visit our store during our business hours to ask us anything you like. If that doesn't suit you, feel free to fill out an enquiry form on our website or give us a call. We can give you further details in regard to our delivery and shipping policies too. Then, no matter where you plan on going, we're always here for you with a repair service or even just with some solid pieces of advice.
We're trusted and renowned as leading manufacturers in this industry throughout Australia and are proud to serve our communities with products that contribute to a principal cornerstone in our lives. That's why we work so hard to maintain our level of dedication and to make sure that you receive the very best canvas goods.
If you like the sound of what we do and how we do it and need a canopy for your Amarok or any other kind of canvas or camping kit, then do get in touch with us. We're always thrilled to assist you and hear your feedback. Sign up to our newsletter and find us on socials for all our latest as well.
No products were found matching your selection.