Products
>
UTE Canopies Melbourne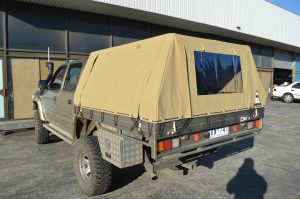 Southern Cross Canvas manufacture a huge range of canvas canopies to suit a vast array of vehicle and designs. The features and possibilities are endless when it comes manufacturing canopies to suit vehicles, trailers and hunting cages/boxes. Utilising years of experience and the best quality materials available you can be sure that Southern Cross Canvas will be able to design and manufacture a canopy to suit your requirements, but also achieve a long service life. There are countless options available depending on what your requirements are. Here a just some of the options available: – PVC Clear windows – Extra zips – Flywire windows – Awning Zips – Awnings – Vents – Framework – Shooting Provision Do not hesitate to contact the team at Southern Cross Canvas to discuss your requirements and to obtain a preliminary quote. Contact Us
Read More
Custom UTE Canopies Melbourne
UTEs or utility vehicles have become incredibly popular in Australia over the last few years. While most users choose to put them to work in a commercial sense, a lot of campers and adventurers have turned to the UTE as an alternative and worthy vehicle. While the physical shape of a UTE does no inspire immediate ideas about camping, the reality is that its rear bed is ideal for bunking down in, which makes it customisable and therefore offers up a variety of possibilities.
Here at Southern Cross Canvas, we can make custom UTE canopies for Melbourne residents who have the desire to take their vehicle on the road. We are a family owned company, Australian through-and-through, and have been innovating, designing and manufacturing the best canvas products in the market for the past 35 years.
Our reputation precedes us, with thousands of customers still getting great value out of their canvas tents, camper trailers, swags and caravan canopies years later. We are proud to also count the Australian Defence Forces among our past clients, which should give you some indication of the high standard to which all of our products are made.
What a Canopy Could Do for Your UTE
Those who venture out into rough terrain with their ute may be transporting quite a lot of valuable goods in the tray and so, having a canvas canopy can help secure your items, and allow you to focus on navigating that tricky terrain. As always when you are heading off on a camping trip, be sure to plan for potential weather changes.
The canopy can serve as a great protector of your most treasured goods and your clothes and sleeping bags if you suddenly run into a rain system. What's more, if you are planning a trip and considering bringing a second vehicle to transport your gear, having a canvas canopy can expand the possibilities of just how much your UTE can carry, and may negate the need for a second vehicle. This, therefore, spares you fuel expense and allows drivers to share the effort.
Depending on what you have in mind, a canvas canopy can be created to meet your needs and offer flexibility in terms of extending the space you have to shelter beneath. In terms of safety, you can rest assured that when you are away from your vehicle all of your goods are safely housed within your UTE.
High Quality, High Standards, Long Life
At SouthernCrossCanvas.com.au, you will find a team that is dedicated and passionate about creating durable, sustainable solutions for all of our customers. Whether you are looking for camping, four-wheel-drive, outdoor, recreational, caravan or leisure products, we have innovative ideas in our shop and online that will meet all of your needs.
When it comes to canvas UTE canopies Melbourne adventurers can customise to their specific vehicle, Southern Cross Canvas is really the only sensible choice in the market. Our goal is to make the products that will stand the test of time in the harshest of Australian conditions and bring them to the camping market at highly competitive prices.
As such, at Southern Cross Canvas, you can expect to receive exceptional value and benefit from our vast experience tailor-making canvas solutions that are renowned for being manufactured to the highest standards and made from the best materials available.
Buy Our Custom UTE Canopies and Enjoy Your Day Out in Melbourne
Do you long to get out into the great outdoors and enjoy all that Australia has to offer? The great climate that Australia has lends itself to getting outside and exploring the bush around you.
At Southern Cross Canvas, we can create a UTE canopy for you in Melbourne, allows you to take your UTE on your next camping trip and enjoy all the benefits that come with this.
UTE Canopies designed for you and your vehicle
Southern Cross Canvas design and create custom UTE canopies throughout Melbourne and we can design one that perfectly suits your vehicle.
The advantage of having a custom-made UTE canopy is that it will fit your vehicle perfectly. Ultimately, this means that should there be an outpour of heavy rain, you can be confident that everything inside your UTE will remain dry, thanks to your well-fitting waterproof canopy. 
All our canvases have been designed to withstand even the harshest of weather conditions. As an Australian-owned family business, the company originated because there were not the products available on the market to provide Australians with the equipment and tools needed to enjoy the great outdoors. This means that we have designed and created our products with Australia in mind, including, what can be at times, a harsh climate.
Our canvases are all waterproof and will remain this way as long as the maintenance is adhered to. Furthermore, they are rot and mildew resistant, so you can be sure that they will stand the test of time.
Benefits of Buying UTE Canopies
Along with the benefits of securing your luggage when travelling and keeping all your belongings dry, a UTE canopy can add value to your vehicle, especially when you choose a high-quality custom-made one. This is because the buyer will be able to share in the advantages that a canopy brings. Purchasing a custom-made canopy is an investment for both now and the future.
Not only this but having a canopy made for your UTE can give it character, along with the many practical benefits.
Should you want to remove your canvas and store it for any reason, ensure that it is completely dry before putting it away. This will stop mould and mildew from developing.
To keep your canvas clean and looking its best, brush it with a soft brush to remove any dirt that may have built up. You can also use cold, clean water if necessary, but you should avoid using any kind of detergent.
Follow these steps and your canvas will remain as trusty and reliable as the day you got it.
UTE canopies from Southern Cross Canvas
For the best UTE canopies in Melbourne, Southern Cross Canvas are the answer you have been looking for.
Each canopy that we design, make and fit is bespoke. This also means that you can choose the colour to ensure that it compliments your vehicle.
Call us today and we will happily provide you with a quote for your UTE canopy and you can look forward to transforming your vehicle into a functional space. 
Southern Cross Canvas also offers high quality Swags, Canvas Tents, UTE Camping Canopies, Cabin Tents, Camper Trailer Tents, Canvas Annex & many more Australian made canvas products at best prices. You can get in touch with us today by giving us a call or sending a message through our website. We'll get straight back to you. Feel free to learn more about our products by visiting our website. You can then make your purchase via the website or give us a call if you have any questions – we love to talk with our customers and discuss how our swags can help them!
Read Less