Products
>
UTE Camping Canopies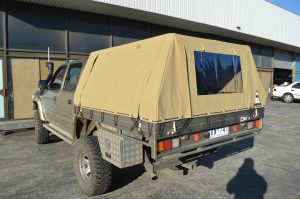 Southern Cross Canvas manufacture a vast range of different style's of tents to suit numerous applications ranging from your quick and and easy to use, touring style tents through to your cabin style tents.
Renowned for manufacturing canvas tents and products to the highest standards of quality and workmanship, you are sure to find a canvas tent to suit your requirements, and offer years of hassle free camping.
They are also specialist in manufacturing custom work also. So if there is not a products to suit your requirements do not hesitate to contact them to discuss the possibilities.
Read More