Products
>
Canvas Cabin Wall Tent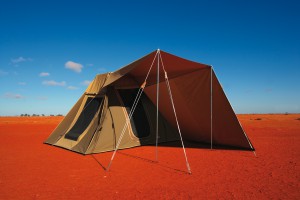 Camping doesn't always need to be a case of toughing it out against the elements, cowering in undersized tents against storm winds or overpowering heat. This is especially vital if you want to spend time outdoors with your family or a group of friends. No one likes to be crammed into a small tent with little breathing room if you just want to have some fun. Camping can actually be comfortable, luxurious even if you get the right tent.
That's why we offer an exciting range of canvas cabin wall tents in our range. As a designer and distributor of high-quality Australian made canvas tents for over 30 years, we're proud of the fact that we offer a tent for every need. All our tents and canvas goods are built with only the best quality materials and utilise intelligent, innovative designs drawn from a wealth of industry experience. Read More
Our Canvas Cabin Tents
All the materials used in producing our tents are of the most premium standard, including our steelwork, made to be rust free and our canvas which has its seams double-stitched and bound. But though we place great emphasis on sturdiness and stability even in the toughest weather conditions, we want to be sure you can actually assemble it. That's why it is designed to be easily assembled and disassembled without compromising structural integrity.
We have two main canvas cabin tents for sale in our range:
The smaller of our two tents is ideal for smaller families looking to spend a bit longer out in the wild. It has three large windows and opposing door for optimum ventilation, all fitted with super fine flywire to keep out the midges and sand-flies. It features power inlet flaps and fittings for zip-on PVC window flaps for added protection, as well as internal pockets for easy storage. Other features include:
Heavy-duty vinyl floors
Stainless steel O-rings
All poles, pegs and a fitted tent bag
Wax Converters Billabong 370g/sq.m (10.9oz) canvas
Sleeps 3-4 people.
Available in Khaki Green and Beige as standard but there are other custom colours available. As with all our products it has a 5-year warranty on the canvas.
This is the slightly larger of the two canvas cabin tents in Australia we sell. Like all our products this tent is created with some of the most weatherproof canvas on the market, resistant to both damp (rot and mildew) and heat, with a UV rating of 50+. This also has large windows for ventilation and vinyl floors with welded seams to keep out ground damp.
Wax Converters Billabong 370g/sq.m (10.9oz) Canvas
Internal Pockets
High doorsteps to stop groundwater from entering
Heavy-duty spiral zips
Power inlet flaps
Sleeps 4 to 6
This tent is available in both Khaki Green and Beige, but other colours are available on request. Like the smaller tents, it is also subject to our market-leading 5-year warranty on the canvas.
Order Your Canvas Cabin Tent Today!
In addition to our fantastic tents listed above, we also offer a high-quality customisation service so you can get exactly what you need to your exact specifications. Our ordering process is very straightforward but we're always happy to help you make your purchase, so give us a call now if you need some help! We're ready for your order!