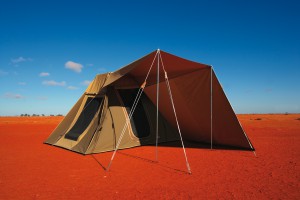 Big adventures need big tents, and thanks to the team at Southern Cross Canvas we can help you find the perfect big camping tents that fit you and your family – no matter where the road takes you.
Southern Cross Canvas was born out of the struggle to find quality tents at a great price – and more than 35 years later we are still at the forefront of canvas innovation. From swags to army tents, Southern Cross Canvas is a household name because we source the best quality materials (mostly from Australia) and we provide the ultimate in customer service. Alongside this, we offer exquisite craftsmanship on every single product we create – making Southern Cross Canvas the ultimate destination for families looking for the best big camping tents.
Choose Your Big Tents in Australia from Southern Cross Canvas
Southern Cross Canvas is not only a well-regarded name in the camping business – we also source our canvas directly from Wax Converters, another Australian business. We choose the right canvas for our tents so you can rest assured that our big camping tents are waterproof, will not tear easily or shrink, and are easy to maintain for extra long life.
Our brilliant Cabin-Style Tents are great options as a home-from-home, offering great space for families and especially great for long-term stays. The Hut sleeps 3-4 people, and The Settler Tent sleeps up to 6 – while still being easy to put up and pack away.
If you prefer a more traditional tent shape, then the Ultimate Trekker Double Ender which sleeps 6-8 people would be a perfect option. One of the greatest shapes for big tents in Australia, it really is the Ultimate – with lots of room, yet easy to pack down and into a surprisingly small package, too.
If you need extra help deciding on the right big tents for your needs, then you can speak to a member of our team who will be able to guide you. Don't forget, we also specialise in creating bespoke designs too – both small and large scale – for our customers. This means that if you have specific design or additional requirements, we can work with you to create a completely unique tent – no matter the size. Read More
Canvas Care for Big Tents
Big camping tents can be a big responsibility, but part of the service you get from the team at Southern Cross Canvas is detailed instructions and advice on looking after your canvas.
To begin with, you need to weather or season your big tents. This involves completely soaking the canvas with water, then letting it dry. You need to complete this process a minimum of three times – and when you have, the canvas and the cotton stitching will swell to fill any stitching holes from the manufacture of the product, effectively sealing it and ensuring that it is waterproof.
Before storing your tent, make sure that it is completely dry, and keep it in a cool dry place. We suggest somewhere like a shelf in your garage.
For ongoing care, keep it clean and dry. Brush it gently to clean it, if necessary, you can hose it gently but do not use soap or other chemicals and avoid high-pressure hoses.