Products
>
Camping Awning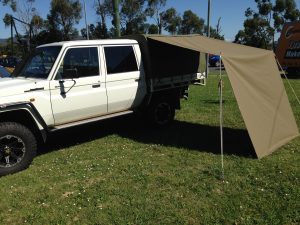 At Southern Cross Canvas, we manufacture high-quality canvas products that will complement your camping endeavours. Whether you long for lazy, sun-drenched afternoons, to explore unusual terrains or watch the stars in the settling silence of outstretched landscapes, you've come to the right place.
Let us deck you out with some of the best camping awnings on the market so that you'll have a brilliant break away from the hustle and bustle of everyday life.
Don't Miss Out on Our Camping Awnings for Sale
Over our 35 years in this industry, we've really come to understand what it is that people need for all their camping adventures. An accessory like awning is a quintessential part of any camping fan's set up. It provides shelter from the burning sun and allows rain to tumble down off it, keeping you nice and dry. Whether you need a covered haven to plot your next route, or a chilled-out space to kick off your shoes, our canvas awnings offer a luxurious rooftop so that you can unwind in the fresh air but in the most comfortable way possible.
They are built to withstand all weathers and connect up to your tent with ease, an extension that instantly creates an outdoor spot where you can eat, relax, read a good book or simply watch the world go by.
We all crave escape, whether it be to slow down amongst nature, to seek adrenaline rushes, explore new places or to just be out in the wild. However, no one likes the feeling of missing an important piece of kit. Making sure you have all the necessary equipment is crucial if you want to capture memorable moments. At Southern Cross Canvas, we believe you deserve the best there is and that's why we only use top-grade, Australian made canvas for our protective products.
Southern Cross Canvas Camping Awning Australia Wide
We're based in Bayswater, but we can ship our products throughout the country. Should you be in and around North Victoria, do feel free to come by anytime and one of our highly knowledgeable, passionate members of staff talk you through our products. They can answer any queries you may have and assist you with our awning options.
You can trust in our ranges because we have nearly four decades of experience in this industry. Not only are we experts, but we also love what we do and are proud to manufacture everything here in Australia.
If you treasure camping trips as we do, we know you'll want kit that won't let you down. Our canvas collections are designed and made to last so that you can have all kinds of trips throughout the year and in all weathers.
So, if you're in need of some of the best awnings for camping come down and visit us or check out our gallery online. You can also find us on social media to see our products in action and connect with our community.