Products
>
Toyota Hilux Canvas Canopy
Toyota Hilux Canvas Canopy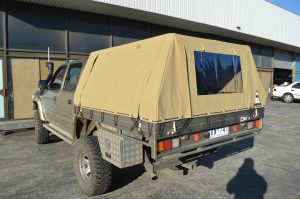 This high performance, ultra-diverse vehicle is any avid adventurer's dream drive. Here at Southern Cross Canvas, we know how to make stunning canvas creations for this type of car. By using our years of industry know-how, we can manufacture canopies that are second to none and that have a reliable and solid longevity. We'll get you all kitted out with no hassle so that you can be hitting the road for your next adventure in no time!
Highly Functional Hilux Canvas Canopy for all Your Exhilarating Explorations
Canopies are perfect protectors and sure-fire, security covers. They will keep all your precious possessions and breakable belongings safe from a vast variety of weathers. As well as being a critical camping component, transit take-along and brilliant barrier, our canvas looks are unbelievably sleek, aesthetically pleasing and dutifully durable. For us, nothing is more important than being able to manufacture and sell kit that is top of the range yet also, attainably affordable. This is because we know a large proportion of the Australian population love travelling and so, we always aim for excellence when it comes to our practices, designs and final products.
You can roam, ride, travel and park out your Toyota in style knowing that everything you have with you is tucked in safe. You'll be able to settle in, pump up the music and have a smooth journey with the knowledge that all your valuables are under a sturdy Southern Cross Canvas Canopy.
Overall, the functionality and long-lasting nature of our canvas canopy for the Toyota Hilux will mean that you can do more than endure your exploits, you can also enjoy them to the maximum. No more worrying about having to hunt down replacements, battling wild weather or any other such mishap. At Southern Cross Canvas, we have a keen eye for detail, determination and resilience so we'll always do what we can to make necessary improvements and renovations too. Therefore, by choosing us, you're going with a company that always strives to give you the very best canvas goods for all your camping, 4WD and outdoor needs.
Why You Can Trust in Us For Toyota Hilux Canvas Canopy
Searching for a Toyota Hilux canvas canopy for sale can be a stressful experience especially as this is an undeniably important accompaniment. You should, however, be able to shop with confidence and we endeavour to instil it in you, a much-valued customer, every step of the way. From our management to the fabrication, team members and dedication we put in, all aspects of our company are homemade, home loving, family friendly and enriching.
Our staff members are well informed and ready for your questions. They're on hand to help in store and are always happy to assist you over the phone too. So, if you like the sound of our canvas canopies, why not call us for a quote? You can also check us out on our socials and sign up to our newsletter for all our latest posts, updates and information.
No products were found matching your selection.