Products
>
Nissan Navara Canvas Canopy
Nissan Navara Canvas Canopy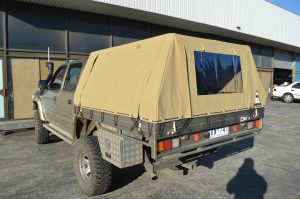 Southern Cross Canvas is a speciality outdoor, camping and 4WD company. We're at the heart of the camping community, helping out fellow explorers for nearly four decades now! We take a great deal of pride in what we do and have worked hard to establish our business so that you can come to us with all the assurance you need. So, if you want to buy a canvas canopy for the Nissan Navara, we're ready to assist you and provide you with an impeccably stress-free service.
Check Out Our Extensive Catalogue to See Our Nissan Navara Canopy Sale
We're passionate, creative, relentless and energetic which is why this industry suits us. This combined with our leading industry experience means that we know how to take care of our customers. We've come to understand the benefits of canopies and use this to our advantage.
Our Australian made canvas is strong, solid, weatherproof and
long lasting. No more worrying about wear and tear, our designs and materials are more than up to the job. It will be able to come everywhere with you and stay attached to your Nissan no matter how far or wide you venture.
Utes of course are symbolic in Australian camping and outdoor culture, we rely on them to get us from all ends of our gigantic, diverse country. That's why it's key to make sure that your equipment is dependable and tough enough. That way you can work hard and play hard doing what you love with the people you love most.
At South Cross Canvas, we have your best interests at heart, and we've spent many years exploring the Aussie terrain ourselves. In consequence, we understand what you need, how you need it and how to obtain the results you want. This is our profession, our life's work and what we do so you can absolutely put your faith in us when it comes to buying a Nissan Navara canvas canopy.
Southern Cross Canvas: Here to Help with a Canvas Canopy for the Nissan Navara
Whether you're an old hand in this game or this is your very first ute, we've got you covered. Our conscientious team will talk you through quotes, set up, tips and other tricks and of course, arrange your canopy cover for you. You can browse our website for pricing details or call to get an idea of a quote. We're always on hand to help, there's no question too big or small! We'll happily show you images of jobs we've done, all our products and assist you with any other request you may have too. Basically, we're an approachable and welcoming family run business and there's nothing we love more than seeing satisfied customers driving away, kitted out with our gear.
Don't have any regrets, come down to us or order online for quality, reassurance and security with your items. Reach us over the phone, on social media or by leaving an enquiry on our website; we'll be sure to get back to you as soon as we can.