Products
>
Traditional Swags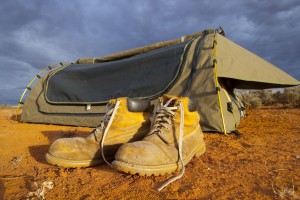 If you are a fan of the simple things in life, the traditional swag is the perfect way for you to get outside and enjoy the countryside. With Southern Cross Canvas, you can take advantage of our original, innovative designs and outstanding materials to get the absolute best out of your adventures – in a small, minimalist package.
Here at Southern Cross Canvas, we have a huge range of canvas products and accessories – from touring and cabin tents to ute canopies and trailer camper tents. We have put more than 35 years of passion, knowledge, and expertise into creating the best Australian-made camping gear that is designed to be able to withstand the harshest weather our country can throw at us – and be easy to look after, too.
Choosing Southern Cross Canvas for traditional swags for sale means that you can take advantage of our outstanding designs, amazing customer service, and highly detailed craftsmanship for your next adventure.
More than Just Traditional Swags for Sale
The flat swag might be the most iconic traditional Australian swag, but our expertise has created some other options that might suit you better. Available in both single and double sizes, all our traditional swags for sale include all the pegs and fixings, as well as premium quality canvas that is our trademark.
Here are some of our favourite options:
Double Flat Swag
This is one of the most recognisable designs in our traditional swag range, and we love it for its versatility and ease of use. With a rolled diameter of just 250mm and a weight of just 8kg (including all the pegs), the carry handle means that this is easy to transport. The floor is heavy-duty vinyl, with a 50mm high-density foam mattress for the ultimate comfort while you sleep under the stars. Perfect for two, or extra room for one, this a great choice for those who enjoy no-frills camping.
Double Enclosed Swag
This traditional Australian swag is roomier at the foot end, thanks to the aerospace-grade alloy bow. Our original design allows for entry through the top section, leaving room for storage if you need it – and it can also be used as a flat swag if not. Poles and pegs are all supplied and weighing just 10kg when rolled you will find this easy to manoeuvre and carry whether you are hiking or driving.
Double Dome Swag
We first developed this design 15 years ago, and we have perfected it over time to become the perfect traditional swag. With two bows crafted from American-made aerospace 7075-T9 alloys, as well as the highest quality canvas, this is a hard-wearing swag that can deal with whatever you throw at it. Comfortable enough for two, or extra roomy for one, this is the perfect travel companion for the camper who wants to get close to nature but stay safe, warm, and dry.
Southern Cross Canvas – Setting the Standard For the Best Traditional Swags in Australia
Thanks to our personal dedication to creating the absolute best quality canvas products, Southern Cross Canvas has become the most well-known and respected places for tents of all sorts. We have set the standard throughout Australia for quality, service, and workmanship – so you know that finding traditional swags for sale from us is the way to ensure that your camping experience is the absolute best it can be.
No products were found matching your selection.