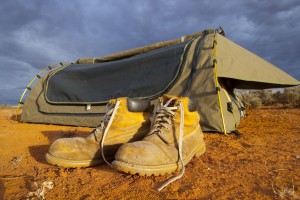 Whether you are out in the bush or have spent a night on the beach, there's nothing more guaranteed to put a dampener on the excursion than the thought of having to lump a huge tent around with you the next morning.
That's why a good quality swag tent is a great investment. We offer some of the most durable and easy to transport swags in Perth, manufactured with some of the best quality materials and using designs drawn from over three decades of tent production. Time after time our tents have proved to be easy to use, easy to transport and impervious to the rigours of life on the road. Read More
Some of Our Swags for Sale in Perth
All our swags are made with high quality, Australian made Wax Converters canvas which is manufactured to be rot and mildew resistant as well as highly protective against UV rays. They feature large windows which can be poled out as awnings, providing ventilation and each is equipped with a super fine UV stabilised fly screen, capable of keeping out unwanted pests and bugs.
Other features include:
Heavy-duty vinyl flooring with welded seams
High quality, high strength end bows
Adjustable spreader bars
Tough, durable spiral zips
50mm high-density foam mattress with a removable cover
50mm roll up straps and quick-release buckles
Internal pockets
All the necessary poles and pegs required for set up.
As with all of our canvas products, the canvas used in the production of the tents comes with a 5-year warranty, so you can be sure that your investment is safe.
Our range holds some of the best quality swags including, but not limited to:
This is the most cost-efficient of our range and benefits from a simple but effective design. It is a straightforward sleeping tent, with one large access zip which can be left open on clear nights for a good view of the stars.
The specifics of the tent are as follows:
Length – 2130 mm
Width – 820 mm
Height – 70 – 300 mm 
Rolled Diameter – 250 mm
It is made with heavy-duty Wax Converters canvas and a high gsm vinyl flooring so you can remain protected from the elements.
Similar to our Single Flat Swag, this is the smallest of our Dome Style swags. It benefits from the same heavy-duty vinyl flooring and features Wax Converters Dynaproofed Billabong Canvas, providing much-needed wind protection against the dome. Dimensions are as follows:
Length – 2130 mm
Width – 900 mm
Height – 700 mm 
Rolled Diameter – 250 mm – 300 mm
At the other end of our range, the King Dome is designed to accommodate two people with room to spare, meaning you can keep cool and breezy on a hot day. It is the largest of our Dome Swags and features the same materials as our Single Dome Swag, and measures:
Length – 2440 mm
Width – 1560 mm
Height – 900 mm 
Rolled Diameter – 300 mm – 350 mm
Need to Buy Swags in Perth? Order Yours Today!
Of course, there are many more swag tents on offer and we're always keen to cater to any needs you might have, and we absolutely shine when it comes to customisation. Give us a call today and we'll take you through our catalogue or, if you see something you like, order right now and we'll get it out to you in no time!
No products were found matching your selection.